Posted on August 25, 2017 by Kate Halsall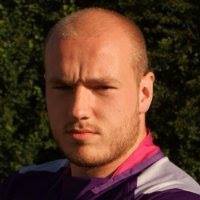 How well do you really know our personal trainers? Don't get me wrong, everyone by now knows that Jenny loves aubergine, Alex gets easily sunburnt and Louis LOVES burpees….however, we perhaps don't always show the real human side of that person – even though we do have them you know!! So whilst he may be leaving us this month, we asked our rugby playing, nutrition guru and personal trainer some questions which the answers to may shock you! So here's 5 things you didn't (hopefully) know about Louis.
What is your go-to snack of the moment?
It varies between protein supplements, bananas or chocolate rice cakes. Most low calories/high volume foods.
What is the one piece of kitchen kit you couldn't live without?
My microwave steamer pots
Stood with your legs straight and without bouncing, can you touch your toes?
Yes!
If you were randomly given £100 in cash to spend on anything, what would you spend it on?
Yes! Probably something boring like a new nutrition book….actually, a lovely meal out with some friends.
If you were given a cameo role in your favourite tv series – which series would it be and what role?
Got to be Game of Thrones as one of Khaleesi's right hand men!
Who knew a rugby player would be flexible enough to touch their toes and be soft for the mother of dragons!!! Oh and he does look very dapper in a flat cap despite him not being from Yorkshire!
If you want to know more about any of our trainers, click here.