Posted on August 30, 2019 by Kate Halsall
Will took part in our very first Race for Fitness back in 2017. His team came 6th out of 8, but we won't dwell on that! Since then, he has been a regular feature in the motive8 gym; even after cycling into work or dislocating his toe! We're always greeted with a hello and a smile and left with the spin bike saddle adjusted to its highest setting – sometimes it's the little things that we love! So here he is, August's member of the month – Will Parker.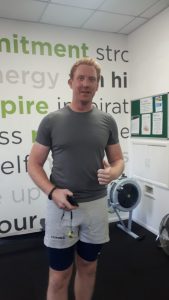 How long have you trained at motive8?
2 years
What were your goals when you joined and have they changed?
Generally to keep fit and get back in shape. Now I am keen to beat P/B's 1k, 5k run; 10mile / 20 mile bike; 500 / 1000mtr row.
Why do you enjoy working out at motive8?
It's the relaxed environment. I train before and after work and there is a little community who do similar. People are always on hand to help and when I was injured offered some really good advice on recovery from injury.
What keeps you motivated?
Knowing I have trained well in the week and can have a few beers after golf at the weekend! You never want to go to the gym all the time but setting personal times or building circuits keeps it varied and you can change the combinations…
If you want to come and join our gym community, have a look at our great deals or contact us on [email protected]