Posted on October 16, 2017 by Kate Halsall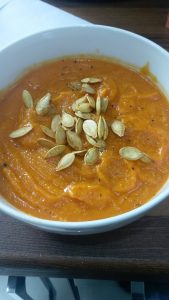 Last week I wrote a blog about seasonal foods and I promised some seasonal food as part of this months recipes, so here we go with my curried pumpkin and red lentil soup! I've never been a massive fan of pumpkin if I'm honest – I'm more of a butternut squash person. But on this fodmap I'm following, I can have one and not the other! I decided to make this curried in the absence of garlic and onion – you don't have to of course. I also discovered that my shop bought curry powder contains garlic, so I had to make my own; and any stock cubes whether they are organic or low salt, all contain onion and garlic also – so I needed to add flavours.
Serves 2
Ingredients
1tbs curry powder – mine consisted of ground cumin, coriander, turmeric, cinnamon, chilli powder
coriander seeds, mustard seeds, few cardamom pods (crushed) and cumin seeds – I just threw these in so I have no idea of quantities!
1 tsp fresh ginger
half a pumpkin – and its seeds!
1 red pepper
1/2 cup red lentils
2 tomatoes
oil for roasting
Instructions
Preheat the oven to 200
Chop the pumpkin into chunks and remove the skin. Chop the pepper into chunks. Add both ingredients to a baking tray
Rub the seeds, curry powder and oil onto the chunks. Place in the oven to roast for 40 minutes
Place the pumpkin seeds on a separate baking tray and put in the oven also. Keep an eye on these as they want to toast and change colour but not burn!
Whilst the pumpkin and seeds are cooking, roughly chop the tomatoes.
Heat a little oil, the ginger and tomatoes in a pan. Add the lentils and a little water. Simmer until the water has evaporated and add a little more water – continue this process until the lentils are cooked.
Combine the pumpkin with the lentils and stir well, still over the heat.
Place all soft ingredients into a blender and then place into bowls. Top with the pumpkin seeds and fresh coriander if you have any – I forgot to buy some!
So yes there are easier ways to make this – you could just simply wack all the ingredients in a big saucepan and do it that way. However, I love the roasted sweetness that the pumpkin gets from being in the oven. Plus to be fair, it didn't feel like it took 40 minutes!
This Curried Pumpkin And Red Lentil Soup is fodmap friendly, seasonal, vegetarian and vegan – and it was delicious if I do say so myself!