Posted on February 21, 2020 by Kate Halsall
Yes, you read it right – this blog is about February's members of the month. Occasionally it becomes necessary to shout about 2 individuals because simply put, it would be unfair to blog about one of them and not the other. This is even more the case when the two people work together! Meet Andy and Simon. These guys have been smashing it. Working together, attending classes together and even entering a team into our Race For Fitness together with other members of their workplace. What's not to shout about!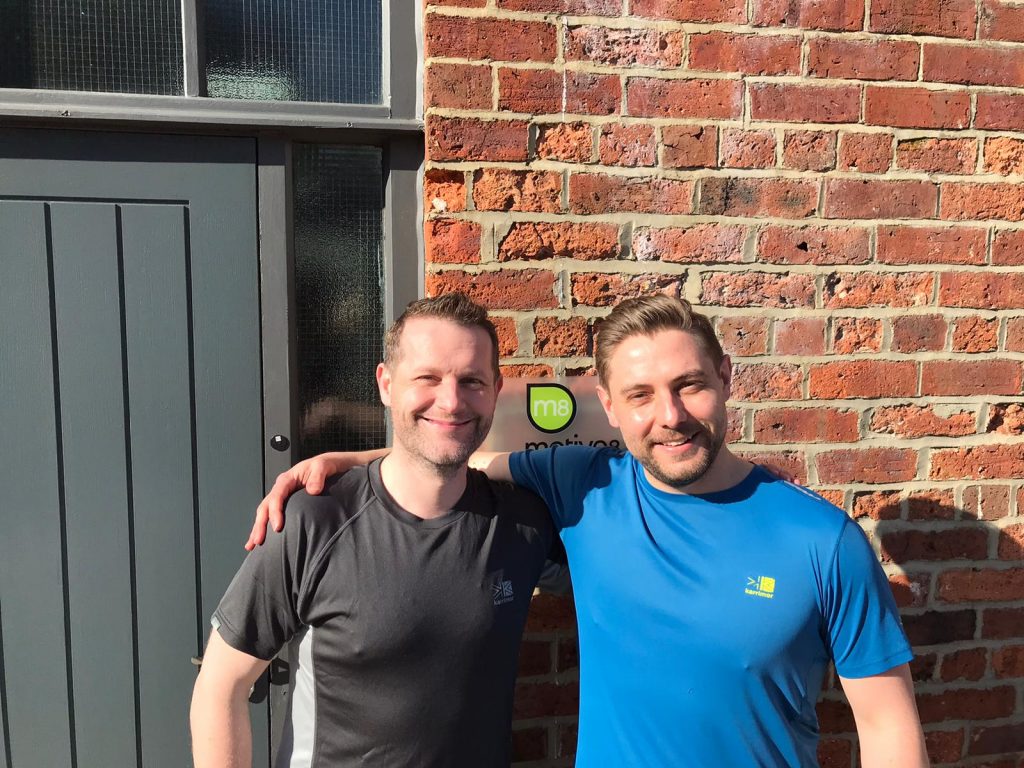 How long have you trained at motive8?
Andy – I started in June 2019 but it wasn't until late September that I started training regularly.
Simon – Since August 2019 – although on, off, then on, off again, but well and truly now back ON! Dare I say, I actually think I have caught the bug, which I didn't expect and feels great starting the new year.
What were your goals when you joined and have they changed?
Andy – Like most people I wanted to lose weight and improve my fitness levels. I was aware that I'd put on a significant amount of weight over the past couple of years, then the day finally came when I weighed myself and decided to try and do something about it. I stumbled upon motive8 as it is close to where I work and I haven't looked back since. I joined initially just to use the gym and was doing my own thing whilst trying to eat "better" but it wasn't until I started attending the classes that I really started to get focused on my goals and get some results. I have managed to lose a decent amount of weight and get fitter but I still have more fat to burn and my fitness goals are now starting to get more specific/tailored to things I want to achieve.
Simon – My sole aim was to counter the physical and mental effects of sitting in an office getting stressed out staring at a screen for 9 hours a day; having sat in a car to get to and from work; to then sit on a couch most evenings. A rubbish downward spiral! I've definitely seen some positive results – feel stronger, more energetic and the scales now read 14st something for the first time in forever. Goals are changing as a result to target specific activities and I'm building towards the Great North Run later in the year hopefully….just need to convince Andy Leatham to sign up.
**NEWS FLASH** Andy has now signed up for the Leeds 10k and will be doing it for BTRS!
Why do you enjoy working out at/with motive8?
Andy – It's such a great gym! All the staff are friendly and genuinely interested in helping you achieve your goals. You get to know the staff and the other members which makes it more like being part of a team rather than just a member of a gym. Its location is massively convenient for me due to how close it is to where I work which removes any excuses I can make for not going! I really enjoy the attending classes. The fact I can get a top quality workout done during my lunch break is great. I have the added benefit of a couple of friends from work who attend as well to keep me working hard.
Simon – I love the close proximity to work and how motive8 makes exercise a part of my working week…every week; be it finding an hour over lunch or avoiding the traffic by taking an evening class. I also love the small scale and the personal touch and flexibility that brings with it. The motive8 team are great, really friendly and have helped me to feel loads better and I'm keen to keep that going. I originally started with classes only, which are great and really good value. There is nothing like being told what to do in a small group – they are kind of like 'semi-personal training'. It used to feel a bit strange hitting tractor tyres with a sledgehammer in the car park, but I'm over that now!
What keeps you motivated?
Andy – My wife and children are my main motivation, to set a good example and to be the best version of myself for them keeps me going. The results of my hard work are also helping keep me motivated. Since I started working out regularly I've managed to lose over 20kg, so I want to continue working hard and see where this journey takes me.
Simon – Having now seen and felt some positive physical and mental benefits that the last 6 months (ish) of training with motive8 has brought about. I am motivated and committed to not let this slip away and excited to see where I get to this year by continuing to put the time and effort in.
We are super proud of these two and all their achievements. They are great fun when they are in the gym and we really enjoy training them. Keep up the good work!