Posted on February 18, 2019 by Kate Halsall
Marc and Craig started training at the Motive8 gym at the start of the year. They bring a smile and some banter; they work hard, and -more importantly – praise for most of our music choices (although we're not entirely sure about theirs – they requested Peter Andre's Mysterious Girl afterall)! It was a no brainer when we voted these early morning regulars as our February's members of the month!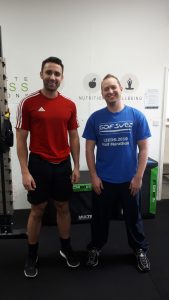 How Long Have You Trained At Motive8 For?
C & M : 4 weeks
What Were Your Goals When You Joined And Have They Changed?
C: To improve my all around fitness and just to enjoy going to the gym again.
M: To lose weight and being able to see some abs again!
Why Do You Enjoy Working Out At Motive8?
C: It has to be the people. There's a friendly, welcoming atmosphere that you just don't get with the bigger commercial gyms
M: Its totally different to normal gyms, its really friendly, the trainers engage with you and you are around people that actually want to be there.
What Keeps You Motivated?
C: Joe (Personal Trainer) singing to one of his many boy band tracks he play's aloud in the gym – truly motivational stuff!!
M: The fact that I've (deliberately) publicised my goals to everyone and I hate failure (and of course Craig!)
We love their camaraderie and the way they keep themselves motivated. So far they have only missed 2 days in the gym since they started – keep it up boys!