Posted on May 16, 2017 by Jenny Cromack
This weekend we held a residential boot camp, I wanted to share one of our scrummy breakfasts with you…..our homemade granola recipe. As a personal trainer, I'll be honest, I don't really recommend my clients eat 'shop bought' granola as it is often high in sugar, but this is a great healthy granola recipe and is also super easy to make. I baked batches of 8 in the oven whilst I did some work and the house smelt amazing!
This healthy granola recipe should keep you feeling nice and full as it's full of healthy fats and protein from the nuts and seeds and slow release carbs from the oats.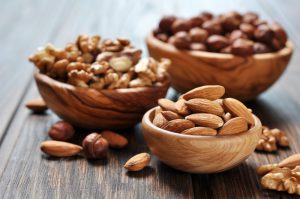 Healthy Granola Recipe
Ingredients – makes around 8 servings
300g jumbo rolled oats – non-rolled oats will be ok, but these give it a nice texture
240g mixed nuts – I love using hazelnuts, cashews and pecans but you can use any you like
100g mixed seeds – again use which you like, I love adding sunflower and pumpkin.
3 tbsp. of olive oil
4 tbsp. of honey
100g dates – I like using stoned Sayer Dates
I wouldn't add any more fruit to this otherwise you are just adding more sugar and increasing the Glycemic Index of the recipe.
How To
This is super easy
Add all of the dry ingredients to a bowl
Add the honey and oil
Combine until all of the dry mixture is well coated. It shouldn't be sticking together or really oily, just enough to lightly coat the dry ingredients.
Place in an oven set at around 200 oC for 15-20 minutes, the mixture should start browning.
Turn the heat down to around 110 oC and bake for another 30 minutes until the mixture has dried out.
Temperatures are for fan ovens
Let cool and then store in an air-tight container.
Serve with milk (I love almond milk with this granola recipe) or Greek yoghurt.
One thing to note, due to the amount of nuts and seeds in this recipe, it can be quite calorific so if you are watching your waist line then watch your portion sizes too!
Enjoy.