Posted on October 31, 2017 by Jenny Cromack
I made this healthy nut and seed bar recipe for our recent boot camp. They are full of good fats, slow release energy and high in protein. I love using them when I'm on my long 2-3 hour bike rides as they give me the right balance of energy to keep going and protein whilst I'm on the move. They were also great for refuelling at lunch after a tough morning at bootcamp!
How do we make them we hear you cry….here goes….
Ingredients
600g organic jumbo oats
2 handfuls of mixed seeds ( I like using sesame and pumpkin)
2 handfuls of chopped nuts (any will do, but my favourites are pecan, pine nuts and cashew). If you can't find chopped nuts either pop them in a blender or put them in a plastic bag and smash them up with a rolling pin or wooden spoon
2 handfuls of dried cranberries (choose ones which don't have any added sugars or glazing agents)
4 scoops chocolate protein powder
600ml almond milk
6 tbsp organic, no added sugar peanut butter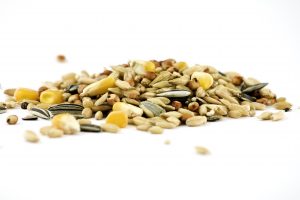 How To
It's quite simply really.
Add all of the ingredients except the almond milk to a big bowl (you need enough room to mix!)
Mix the dry ingredients together
Once the dry ingredients are thoroughly combined then add the peanut butter and mix together.
Finally, add the milk – add around 200ml at a time until you have got a goo-ey consistency and all of the dry ingredients are combined. I tend to use my hands for this bit as I find you can bind everything together much easier.
You could also use a food blender if you don't like getting your hands dirty !
Add the mixture to a baking tray lined with foil, then spread the mixture out. Set in the fridge over night and then score into small bars (they are really filling so don't go too big!)
These bars also freeze very well too and tend to be a winner with kids…..bonus!
So there you have it, a healthy nutritious snack which you can make easily at home. These bars may be similar to what you can pick up in a supermarket already pre-made but I guarantee they will be healthier and contain less sugar. I think they taste like a bit of a healthy version of a Snickers bar…..let me know what you think!