Posted on October 03, 2017 by Jenny Cromack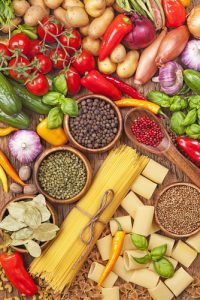 I just stepped back into the studio from nearly getting blown away during lunch time class, and Brrrrrrr it is cold (when the sun goes in)! I'm not generally a big fan of Autumn, but one part of Autumn I most definitely am a fan of is the food associated with this time of year. In my head dark evenings and windy conditions are perfect for big one pot dishes like this healthy veggie chilli recipe. Whether you live on your own or part of a big household, one pot dishes are great for meal prep and lovely, tasty comfort foods to warm you on an Autumnal evening.
Here is a dish I cook whilst I was away in Scotland – a healthy veggie chilli recipe. Although I aren't a vegetarian, I do love experimenting with veggie recipes. This is because it challenges me more, I genuinely don't know many veggie classics. Anyway, here is what I made a couple weeks ago on a cold, dark evening up in the Highlands.
Ingredients – Serves 4
Oil
1 x small onion diced
Spices: Cumin seeds, paprika, cocoa powder, peanut butter.
1-2 fresh red chillies (dependent on taste)
2-3 large mixed-colour peppers
2 sweet potatoes (average size)
1 bunch of fresh coriander
400 g tin of butter beans or kidney beans
Can of plum tomatoes
4 jacket potatoes
4 little gem lettuces
Natural yoghurt
Method
1. Preheat the oven to 180ºC/350ºF/gas 4.
2. Put a casserole pan on a medium-low heat and a frying pan beside it on a higher heat. All the foods need to cooked in the frying pan before transferring into the casserole dish.
3. Peel the onions and cut into 1cm, char for 3 minutes, then place in the casserole pan with 2 tablespoons of oil, the cumin seeds, paprika, cocoa and peanut butter, stirring occasionally.
4. Now for the chilli(es)! Roughly chop the peppers and sweet potatoes into 2cm chunks. and cook in the frying pan. Add the coriander as you go.
5. Drain the beans in a sieve over the casserole pan so the juices go in, then tip the beans into the frying pan and leave them to cook for a good 10 minutes, don't worry they won't burn. Then turn them all over until they are golden brown on both sides, then add the casserole.
6. Pour the tinned tomatoes into the casserole pan, stir well, then pop the lid on and leave for 1 hour, or until thickened, stirring occasionally.
7. Now it is time to cook the baking potatoes, prick lots, and then place in the oven turning over after 20-25 minutes. Total cooking time is about 50 minutes- or until own judgement takes over.
I attempted to serve this healthy chilli recipe, with the casserole on top of the cut open potato and then yoghurt careful spooned on the side, topped with lettuce…unfortunately is end up one big (TASTY) mess! Hope yours ends up more aesthetically pleasing!!