Posted on October 16, 2018 by Ieuan Cranswick
Healthy Banana & Strawberry Ice Cream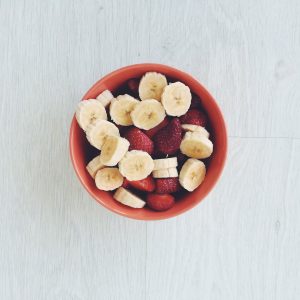 For those of you who have a nagging sweet tooth, this healthy banana ice cream recipe will get those taste-buds tingling. It is an extremely easy recipe and can make good use of those bananas before they start to turn and end up in landfill. Although summer is almost behind us, this chilly treat is a perfect after dinner sweetness hit.
What Do You Need?
2-3 bananas,
1 cup of strawberries,
Coconut flakes,
1 tbsp peanut butter
Sprinkling of chopped nuts.
Method:
Place bananas and strawberries in separate containers overnight (or at least over 3 hours until frozen).
Once frozen place fruit and peanut butter in blender and blitz until creamy,
Pour into a mixing bowl and mix in coconut flakes,
Once mixed serve in a bowl and sprinkle on chopped nuts.
This is banana ice cream recipe is a sweet and tasty treat to healthily satisfy those sugar cravings. Also, why not use this as an exciting shake up for your post-workout snack. For those with allergies or that do not like peanut butter simply leave it out or add in almond butter. This dessert packs a good protein punch and keeps us on the straight and narrow.
For other healthy treat ideas, have a browse through some of our other blogs such as this guilt free Tiffin recipe.
Enjoy!