Posted on November 13, 2018 by Ieuan Cranswick
Over Egging Your Burgers!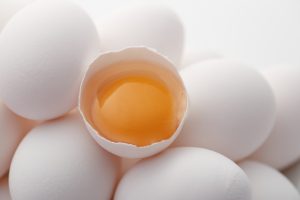 The following protein packed egg burger recipe is one that I very regularly indulge on. It is a very easy meal to prepare and cook, and also offers you a healthy injection of protein to fuel your training and fitness goals. If you are a fan of the traditional beef burger you will love the extra addition; a runny egg. All you need to construct this burger of beauty are the following ingredients.
What You Need!
500g lean beef/turkey/pork mince,
5 eggs,
1 small onion,
Optional burger buns!
How To Prepare!
Mix the mince into a bowl,
Dice the onion and add to the mixture,
Add and mix in 1 egg,
Slightly wet your hands and mix the ingredients,
Separate into 4 even balls,
Squeeze these flat to desired patty thickness (too thick and they won't cook through),
Use a small cup or cutter to cut out a circle in the middle of each patty,
Use excess meat to bulk out the rim of your burgers or keep to make added meatballs.
How to Cook!
Seal the burgers for 3-5 mins in a frying pan,
Then place them on a baking tray in the oven at 180 (depending on oven),
Leave for 15 mins then take them out and crack an egg into the centre of each burger,
Place back in the oven until the white of the eggs are cooked.
Serve on a bed of lettuce leaves and sliced beef tomato for carb free option.
This is a very tasty (but messy) treat for all you burger lovers. And here's some more burger recipes as a double treat!
Enjoy!