Posted on November 21, 2017 by Emily Forbes
Following on from Alex's winter warming lamb stew, I thought I'd bring you another tasty 1 pot meal; my spicy Jambalaya recipe! Unfortunately, this isn't a vegetarian friendly dish as one of the basic staples in the recipe which gives it it's flavour is smoked sausage, typically Andouille or chorizo. The jambalaya is a Louisiana dish which takes inspiration from Spanish and French cuisine. Some might even compare it to a paella.
Along with the smoked sausage, other meat and seafood is usually added, as well as vegetables, rice and chilli to give it spice. Louisiana has the "holy trinity" of vegetables consisting of onions, celery and green pepper which forms the base of many of their dishes. I forgot and used red pepper this time in my recipe which gives it a slightly sweeter taste.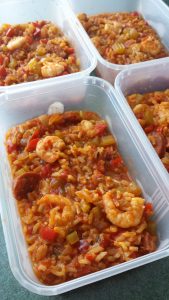 Ingredients
130g chorizo – if you're looking for a lower fat option then omit this
150g prawns
130g onions (1 large/2 medium)
150g green pepper (I used red)
180g celery (3 stalks)
25g fresh chillies, chopped with seeds removed (I used 1x green & 1x red)
2-3 garlic cloves
120g rice (dry weight)
Tin chopped tomatoes and tomato puree
Fresh thyme (you could use dried)
Spices-cayenne pepper, paprika
500ml veg stock
Tabasco (optional)
Method
Fry chorizo first then remove from the pan
Fry onions until soft
Add celery and green pepper, fry off slightly
Add chillies and garlic and other spices, fry for a bit longer
Add tomatoes and puree, thyme, rice and stock and cooked chorizo, stir and bring to the boil
Turn down to a medium heat and allow the rice to cook through in the liquid, you may have to add more water so just see how it is. Try not to stir too much as the rice will go sticky and break up.
When the rice is cooked and you are nearly ready to serve, add the prawns so that they turn pink
Option to serve with Tabasco sauce
I'm not strict with my herbs and spices, I just chuck stuff in then see how it tastes. This one turned out quite spicy!
This Jambalaya recipe made 4 servings for me @ 352kcal- carbs: 33.8g, protein: 19.1g, fat: 15.2g. Of course, some might require larger portions than me!
Adding chicken is another option which will give an extra lean protein hit. This can be cooked off at the beginning in some oil.