Posted on September 25, 2019 by Kate Halsall
Theo is one of our lunchtime regulars. He likes to pick the trainers brains, is forever forgetting something and often comes in covered in bruises! He's a hit with the team which is why he has been nominated as September's member of the month.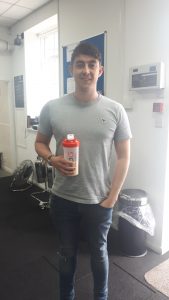 How long have you trained at motive8?
Coming close to 3 years!
What were your goals when you joined and have they changed?
My eternal goal is to have a body like Brad Pitt from Fight Club! But recently I have started to train to aid my football. Including exercises that allow me to accelerate faster and increase my agility.
Why do you enjoy working out at motive8?
As well as having all the equipment you need (including 3 racks!) it's a really nice atmosphere; everyone from the staff to the other gym members are welcoming and approachable. If you ever have any questions (which I always do) the PT's are always more than happy to help.
What keeps you motivated?
When I'm physically in good shape it massively helps with my mental game. I feel alert, confident, sharper at work and overall much happier.
Brad Pitt eh! I'm sure we can put a gym plan together which will help with both of those goals!! If you're interested in joining the motive8 gym, see here for more details or get in touch!