Posted on May 31, 2017 by Jenny Cromack
No Equipment? No Excuses!
Some of you might have a holiday looming this summer. While most will treat it as a nice break and a chance to put your feet up, I know a few people who will be wanting a quick workout they can do anywhere to get the heart rate up and keep themselves on top form.
So to keep you in shape in the sunshine here are some no equipment holiday workouts!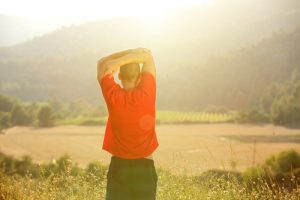 The 7 Step Pyramid Workout
For this all you need is seven body weight exercises and a timer. I'd usually choose 10 reps per exercise and allocate 30s to complete that a rest.
Then add another exercise and another 30s to complete both exercises, do this until you perform seven exercises back to back with 3 minutes 30s to complete it and rest. Once all seven have been added, take away the first exercise and pyramid back down again.
By the end of this weight free workout you should have done seven sets of all seven exercises and be pretty knackered!
And example of exercises you could use would be:
Press ups
Squats
Sit Ups
Burpees
Lunges
Leg Raises
High Knees (double reps)
Don't feel the need to stop at seven exercises… add as many as you like but be warned this weight free workout is a toughie!
The Sprint Interval Workout
This is a short and sharp running workout I give to my personal training clients and is a real lung burner. The workout is simple 45s sprint every 2mins repeat seven times.The key is to sprint at a pace you would do trying to run 400m as quick as you can. Long strides but really pushing yourself and ensuring you're running on your toes and not your heels.
If done correctly it is really tough but you'll feel the benefit for it! Just a warning… the rest will go quick so try walk and take deep breaths and get ready to give the next sprint your all!
The Burpee Drop Set!
If running is not your thing but you want to get your heart rate up, then I cannot recommend a burpee enough! This one is a simple workout, do it as quick as you can!
Find a short path or court which is about 10-20m wide. Start on one side and do 20 burpees, then jog to the other and do 19, repeat this until you have gone all the way down to 1! This workout is brutal but once you get going, each set is shorter and you're closer to the end… this one is just as mentally tough as physically so make sure you bring your A game!
We hope these no equipment holiday workouts will fill the void whilst you're away and keep you in shape.