Posted on May 23, 2017 by Jenny Cromack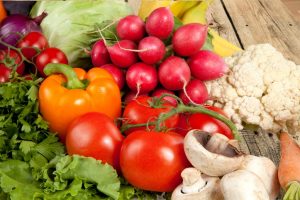 Summer for me means one thing…CRICKET. Unfortunately, cricket doesn't have the best reputation for being the 'healthiest' of sports. Although I will argue all day about the physical demands of the sport being a lot better than most people think, one area I struggle to defend is the food. During a usual game the teams will have a break after one team has finished batting and have 'tea'. Below I mention the selection of what we normally get, but before you switch off and stop reading, carry on to the section after this for my version of the healthy Summer salad we were offered at one of our away games.
I am going to list the exact selection we got given last Saturday:
– Sandwiches – ham, beef, cheese and tomato, tuna mayo and chicken mayo. (white and brown sliced bread)
– Crisps
– Party sausages
– Chicken nuggets
– Pizza slices
– Mini Scotch eggs
– Chocolate brownie
– Vanilla and chocolate muffins
– Lemon drizzle cake
– Water melon
– Oranges
Yeah…not easy for me to defend Cricket when they give you food like this to fuel you for the rigors of the sport to come.
However, last Sunday we played up in Chester-Lee-Street (Durham) and had the most amazing selection and an amazingly tasty and nutritious salad. This is my variation of it, this warm & cold chicken & avocado salad is the perfect Summer salad. It's a great option for post-training nutrition with a high amount of protein to help cricketers or any athlete for that matter recover after exercise.
The Perfect Summer Salad
• Avocado
• Cajun spice mix
• 1 Chicken breast
• 1 Tsp. Olive oil
• 2 Peppers
• 1 spring onion
• 6 cherry tomatoes
• 2-3 slices of cucumber
• 1 Tbsp. lemon juice
• 1 pinch of fresh mint
• 3 tsp. 0% fat greek yoghurt
How To Make The Salad
• Dice the chicken breast and coat with the cajun spice until it is evenly covered.
• Cook the chicken on gentle heat to stop from drying out.
• Whilst the chicken is cooking, slice the tomatoes, spring onion, peppers & avocado.
• Prepared all the diced vegetables on a plate, do not feel like you need limit yourself to these salad foods. Be creative, this is just a basic recipe feel free to have a play around.
• Add the chicken to the salad
How To Make The Dressing
• Finely slice the cucumber and fresh mint, mix with the Greek yoghurt, add a squeeze of lemon juice and season well.
• Drizzle over the salad and enjoy
Obviously not the most complex of dishes, but you don't want to spend hours in the kitchen when it is glorious outside, sometimes simplicity is the best way to go.