Posted on May 09, 2017 by Kate Halsall
Either I need to start growing different fruit and vegetables or I need to stop giving myself challenges like this! Last month I searched the internet for savoury Rhubarb recipes, and now I've tried to find non-pudding uses for Raspberries! So here are some healthy raspberry recipes for you to try.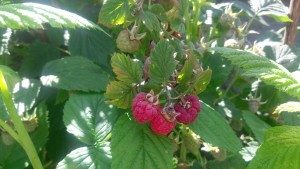 Around this time last year I found a few suggestions which you can find through this old blog: www.m8north.co.uk/blog/healthy-raspberry-recipes/  it would be cheeky of me really not to suggest a few more! I'm going to be honest though, this has been harder than finding the Rhubarb recipes!
Raspberries as a Marinade!
Try replacing raspberry jam with the real thing in this recipe: http://www.bbc.co.uk/food/recipes/raspberry-marinated_rack_59065
 Raspberries as a Dressing!
There are LOADS of recipes which suggest that raspberries go really well with cheese. Remember if you are watching your waist line, choose a softer cheese as these are lower in fat.  Try this one:
http://www.bbc.co.uk/food/recipes/warmspinachandgoatsc_88004
A Healthy Raspberry Dessert – yes you heard correct!
We are loving this raspberry mousse , a great guilt-free dessert!
http://www.alive.com/recipe/raspberry-avocado-mousse/
Have you ever tried our protein pancake recipes – they are delicious! Try adding some fresh raspberries on top and a dollop of Greek yoghurt.
Or why not make your own homemade nutty granola, add some Greek yoghurt and some raspberries for a healthy breakfast.