Posted on June 21, 2017 by Jenny Cromack
Summer is upon us and like myself, most people are loving the idea of taking advantage of the longer days, warmer weather and feeling fitter, stronger and generally more awesome!
With this beautiful weather were experiencing you might want to keep you gym sessions short, sharp and to the point so here are a few of my go to workouts that will get you hot and sweaty in no time! Next time  you want a quick workout then choose one of these 3 short, sharp fitness blasts, you will thank me for it!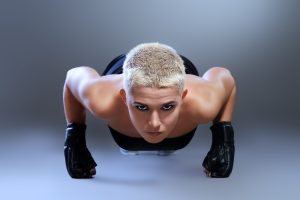 150m Repeat Shuttle Test
This test is brutal! I've done the bleep test and yo-yo before but nothing hits the legs and no lungs like a repeat shuttle test! You are required to run as far into a 150m shuttle (baseline, 5m, baseline, 10m, baseline, 15m, baseline, 20m, baseline, 25m and back to baseline) within the 30s block and note down how many meters you have ran (to the nearest 5m) rest for 30s, return to the baseline and repeat for 6 repetitions in total. Once finished add up all your meters and that is your score. Only a six minute workout and is really tough, so go for it if you really want to push yourself.
The +1 Workout
This workout entails that you to pick an exercise and repeat it every minute on the minute and use the remainder of the minute as rest (sounds easy right?) . However, for every minute you start you add one more repetition on so minute 1 is 1 repetition, minute 2 is 2 repetitions, etc., for as long as you can go for. It may start easy but you'll find this will suddenly creep up on you. Then it's a mental battle to keep going so stay determined! My favourite exercises to do for this are burpees (of course!), chin ups and clean and press 50% of body weight . Enjoy!
Sally Up and Sally Down
For those of you who may have frequented my classes in recent months may have become familiar with a song by Moby called Flowers. Not the most interesting of tracks however the words "bring Sally up" and "bring Sally down" are repeated throughout making it perfect to do press ups, squats or even a cheeky TRX Knee Tuck in sync to. The song is 3:20 long but will feel like an eternity when you're kept holding at the bottom of a movement! Be strict with yourself and see if you can conquer Moby! For beginners I'd suggest doing a squat so you know what you are getting yourself into!
As always if you need any help with these workouts, just grab one of the motive8 team and we'll be more than happy to help