Posted on November 15, 2017 by Jenny Cromack
It's that time of year isn't it, the time when our diaries start filling up with invites to 'Christmas dos'.
You've worked hard all year, and you don't want to undo all that hard work with lots of eating out and boozing. Here are motive8's top 6 tips to staying healthy when eating out.
Tip 1 – Pre-dinner Pep Talk
Before you head out of the door, have a 'word with yourself', remind yourself of your goals, what you're working hard in the gym to achieve and how much you don't want to undo all of that hard effort you're putting into eating healthy.
Go to the meal full of positive thoughts about how you can still stay on track by making healthy choices whilst you are out.
Tip 2 – Check Out The Menu First
If you know which restaurant you're heading to, then take a sneaky peak at the menu online first. Decide which is the healthiest choice you are going for and when the waiter takes your order you will be less tempted to stray.
Tip 3 – Stick To One Course
Aim to choose a healthy main course such as a meat or fish dish (not swimming in a creamy sauce) with vegetables or salad. If your main comes with chips then ask to switch to a healthier alternative such as plain rice or more veg!
If your friends order a starter, then order some olives to nibble on at the same time.
If you do fancy having two courses, then choose a healthy starter and a main, desserts are calorie laden, high sugar, high fat temptations which need to be avoided if you want to keep on smashing those goals. Did you know a restaurant sticky toffee pudding and ice cream can contain over 2,000 calories….ouch!
Tip 4 – Keep It Simple
Apply the K.I.S.S principle to eating out – the more simple your food is, the less likely it's going to be packed with added calories from unhealthy fats and sugars from sauces, dressings, etc. And I don't need to tell you this, if it does come with a sauce or dressing, ask for this on the side.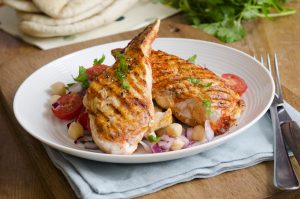 Tip 5 – Get Your Friends On Side
Come on, there can't only be you who is healthy, I bet if you ask 'can we go somewhere healthy', many of your friends will breathe a sigh of relief as this is what they have been dying to ask too. And, if they say no and try to sabotage you being healthy, well, they're not vert supportive friends are they?!
Tip 6 – Speak Up!
Don't be afraid of asking your waiter how a dish is made, whether they can substitute something in a dish to make it more healthy, etc. There are more and more health conscious folk out there, that waiters are used to being asked requests such as this.
Whether it's Christmas or not, use these Top 6 Tips To Staying Healthy When Eating Out, to keep you on track with your healthy eating all year round, whilst still enjoying a social life.