Posted on January 10, 2018 by Kate Halsall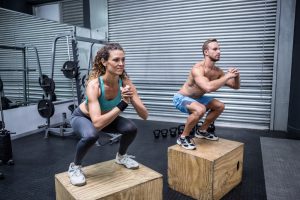 As personal trainers we hear the excuse of "it's hard to find time" a lot. To be honest, I use that excuse myself too! That's why interval training protocols like Tabata are great – it's only 4 minutes work. But what if I said I've come up with a 3 minute workout? What would be your excuse then? What's more, you only need a watch – this is entirely body weight only. Sounds too good to be true right? There must be a catch?
Let's get real – a 3 minute workout isn't going to get you massively fit; and it's not going to torch thousand of calories. But it will make you feel better, it will get your heart rate up (which is much better than doing nothing), and it honestly doesn't take up a lot of your time!
I have designed 4 x 3 minute blocks of work. Each block consists of 3 exercises. You do 10 reps of each exercise in sequence – that counts as 1 round. You then complete as many rounds of the block as you can in 3 minutes. BOOM. The beauty is that you could do one block one day, another block another day and so on and so on – so it really is just 3 minutes of work. Of course you could always put all the blocks together (which is how the class on friday lunchtime experienced the work out) – double BOOM.
All exercises are performed body weight, but if you could push yourself more by using dumbbells where possible.
Block 1 – Cardio
10 High Knees
10 Explosive Star Jumps
10 Side to Side Jumps
Block 2 – Legs
10 Squats
10 Squat Jumps or Tuck Jumps
10 Lunges (total not each leg)
Block 3 – Upper Body
10 Press Ups
10 Burpees
10 Pike Press Ups
Block 4 – Abdominals
10 Toe Touches
10 Squat Thrusts
10 V-Sits
And there you have it! If it helps, the class I used with this got between 6-7 rounds for block 1, 3-5 rounds for block 2, 2-3 rounds for block 3 and 3-4 rounds for block 4. That gives you something to aim for! So, no excuses with a 3 minute workout – get cracking!