Posted on December 13, 2018 by Jenny Cromack
As the end of 2018 grows ever closer, we look ahead to what are set to be some of the biggest fitness trends for 2019.  Here are 5 key things to look out for in the new year.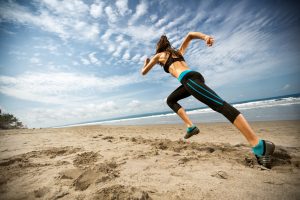 1) Mindfulness Based Yoga
Yoga has consistently been a trending fitness activity for the past decade. It makes sense when you consider the huge variety of types and styles that exist!  In 2018 we saw an emphasis on 'Power Yoga' –  fast flows and movement. In 2019 Yoga is going to be all about mindfulness.  Classes will be slower paced, with a real emphasis on taking the time to relax the mind and unwind from the day's stress.
2) Ninja Warrior and Obstacle Running
Obstacles courses such as Tough Mudder have slowly been gaining popularity over the past five years. The booming popularity of 'Ninja Warrior' and similar style shows, suggested that this trend will continue into 2019.  We're even expecting a few gyms to open specifically to cater for these types of events.
3) Group Personal Training
The popularity of personal training has been steadily on the rise for more than a decade, but what's really set to take 2019 by storm is group personal training.  Teams of 2-4 people work with a coach to achieve their fitness goals. Let's face it, it's an affordable way to get personalized coaching and accountability. In fact, if you're looking to give your training a boost in 2019 why not have a look at some of Motive8's personal training options here.
4) Strength Training for all
Crossfit, powerlifting and weightlifting have gained more popularity for the last couple of years. As such, we've consistently seen a rise in people getting into strength training.  Look back to twenty years ago when the weight-room was mainly occupied by guys in their 20's. Now we're seeing men and women of all ages getting involved, and we absolutely love it!
5) Shorter Classes
With shorter lunchtime classes bringing in tonnes of members, we're expecting to see gyms also offering shorter evening classes as well.   High intensity intervals and Crossfit-style circuits are likely to be the biggest trends, with classes ranging from 20 to 30 minutes.  All the results in half the time…sounds good to us!
That's it folks, your 5 biggest fitness trends for 2019.  Enjoy the holidays and get ready to start a new year of fitness with style!