Join motive8's Race For Fitness 2017 for a more engaged, productive work place!
Last year we held the first motive8 Race for Fitness, and what a success it was! Eight local companies battled it out, with brand design consultancy Elmwood being crowned the Champions of the Race For Fitness 2016. This Summer it could be you!

What Is The Race For Fitness?
For 6 weeks from the 8th May to 18th June 2017 we will be running our Race For Fitness campaign to find out who has the fittest company the South Bank!
Enter teams of up to 6 people and for £300 per team (only £50 per person), you and your team will receive over £800 of fitness services and goodies from motive8.
Each team member who takes part will:
Be able to attend unlimited fitness classes throughout the 6 weeks
Have unlimited use of the motive8 gym at Marshall Mill
Join a weekly team training session with one of motive8's expert Personal Trainers at Marshall Mill or your work place
Receive a motive8 goody bag.
At the start we will measure your team's fitness, stamina and strength and then re-measure at the end of the 6 weeks to decide which team is the champion of the Race for Fitness 2016. The winning team receives £1000 to spend on fitness services at motive8 including 3 months gym & class membership for all of the team and £300 to spend on employee wellbeing with motive8.
If you don't have a team of 6 people then don't worry, you can still enter. Have a team of 6 or more then you can enter more than one team!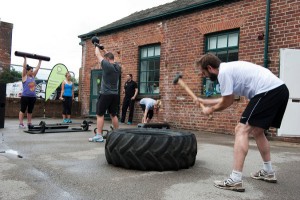 How Does This Benefit You?
Research shows that a workforce who are fit, healthy and active
Are more engaged
Have lower levels of sickness and absence
Have higher levels of staff morale
Are a more productive work force
Love their bosses (ok, so we made this one up…but we're pretty sure they will love you if you enter!)
Points Make Prizes
In addition to the overall prize fund of £1000 and an amazing trophy for the winning team, there will also be individual and team prizes for:
Greatest improvement in plank score (individual)
Greatest improvement in press up score (individual)
Greatest improvement in wall squat score (individual)
Greatest improvement in 500m row (individual)
Most workouts completed (individual)
Most number of miles run (team)
Most number of meters rowed (team)
Most number of miles cycles (team)
Most workouts completed (individual)
In addition to any workouts completed with motive8, you can also log any workouts completed outside or at your local gym (workouts must be at least 20 minutes long).
What Next….
If you fancy joining the motive8 Race For Fitness and having a fitter, healthier workplace or would like more information then please contact Jenny or call 0113 2430161 to enter your team!
Don't Just Take Our Word for It…..
Here's what last year's teams thought about their Race for Fitness experience!
Here's what last year's teams thought about the Race for Fitness.
The Race for Fitness was a really fantastic experience – we received a huge amount of support from the motive8 team in terms of their time, knowledge and encouragement.
The experience brought us together as a team and we now have shared love of exercise, as well as becoming positive influences at work. The classes were varied and great fun, and having use of the gym really benefitted everybody. It's really made us all realise you can integrate exercise into your daily routine along with working and busy lives. A huge thank you to Jenny and the team, as well as losing weight, I personally, have reduced my 5k time by 10 minutes and have learnt to love working out!
Daisy, Elmwood.
We entered two teams into the Race for Fitness and it was a roaring success! On a personal level, I achieved goals which far exceeded my exceeded my expectation, but, moreover, the team and fun competitive environment really served to bring us together as a team which was really positive. I noticed it got guys who don't normally socialize together become firm friends in a united goal…to get fitter and win! It was a real success and we'll be entering again this year!
Dan, All Response Media
The motive8 Race for Fitness was a fantastic team building activity, not ony did it give the team a chance to workout together, it also kickstarted each team member to sign up for a gym membership and continue to become fitter ,
Ross, Out Of The Woods