Posted on June 17, 2016 by Kate Halsall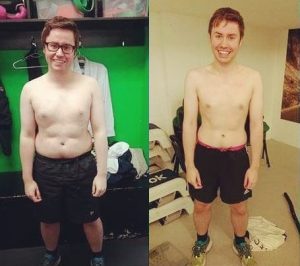 Our clients seek out personal training for very different reasons: weight loss or gain, training for a specific event (sporting or other such as a wedding), keeping mobile and healthy, pregnancy, return from injury and so on. Coincidentally therefore, our clients all have very different success stories.
Recently one of our newest Do It In 12 clients sought help from a personal trainer to take control back of his routine after having been stuck behind a desk for 10 years – and here's his success story.
I'm sure many of you can see the comparisons with your own lives: a not quite 9-5 job with some early starts and some late finishes; wanting to progress your career so putting in those extra hours, helping to support colleagues with workloads; attending and hosting meetings and networking events; grabbing any food on the go and eating it at your desk, getting home late and eating whatever you have in etc etc etc.
But what if you come from a sporting background where you used to train regularly (training in fact with Jessica Ennis before she became famous), where you were a national hurdler and high jumper, where you competed in county championships – and then you decided to get a job. Ten years of office jobs later, your exercise routine has gone and so too has that fitness level, body confidence and any training goals.
And here we are! We have welcomed Steve Copsey back to the world of goal driven training programmes, clean eating and a challenging exercise routine.
Three weeks into his training and the new found drive and motivation from Steve was already reaping its rewards. After just 3 weeks Steve had shredded 4kg and 3% body fat. And that's not all!! Not only was he using weights for the first time (he had never lifted weights before Do It In 12), but he had also entered the Leeds 10k.
At the end of 12 weeks his stats were:
Body Fat – Started at 25.13%. Finished at 17.32%, a whopping 7.81% body fat lost! 
Weight – Starting weight 77.2kg. Finished at 64.8kg. A loss of 12.4kg or for those of us who are still old school, 2 stone weight loss! 
Circumference Measurements – A massive total of 65cm lost from his body. 
We also recorded his one max rep on a couple of exercises. This was really motivating for Steve as he hadn't done any weight training prior to starting the Do It In 12 programme.
Chest press – 50kg,
Deadlift 90kg
We're sure you will agree by looking at the pictures of Steve that his hard work and dedication paid off. But looking good wasn't Steve's main motivator, it was more about getting back into a good routine with his food and exercises. 
Steve is proof that you can take control back, no matter what your current routine is like. And when you take that control – that is the start of your very own success story. Sometimes you just need to admit that you can't do it alone, and that's what we are here for.