Posted on June 13, 2017 by Jenny Cromack
Right, we all love a nice but naughty treat. Something that's delicious balanced but still hits that sweet spot. Well I think I've found the answer with these banana and peanut butter protein muffins.
These muffins are both juicy, macro-friendly and flavourful. A nice easy recipe that takes less than five minutes to prepare and ten minutes to cook
All in all… perfect muffins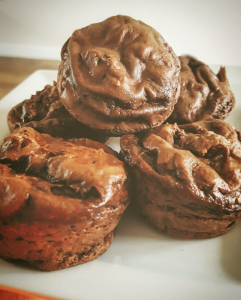 Ingredients – Serves 8
2 bananas
3 scoops of chocolate whey protein powder
4 tablespoon of organic peanut butter
150ml of almond milk
1 teaspoon of baking powder
1.5 teaspoon of honey
How To….
Combine the protein powder and baking powder in bowl
Blend the bananas, milk and honey until fully combine
Add liquid mixture to dry ingredients and stir as you do so.
Once combined, pour mixture into individual muffin trays and submerge 1/2 tablespoon of peanut butter into each serving
Place in the oven and bake at 180°C for 8-10 mins
Remove from oven and let cool
Enjoy
Per serving
105 kcal
9.5g Carbohydrates
3.6g Fat
9.5g Protein
We hope you enjoy these banana and peanut butter protein muffins!