Posted on December 19, 2017 by Emily Forbes
Holy moly, carrot cake porridge is my new, most favourite thing in the world right now! I'm waking up excited every morning, looking forward to breakfast. So good I wish I could also have it for lunch and dinner too.  Confession, I do often have oats for dinner and breakfast. I mix up the flavours and types and make sure they are balanced with protein and at least 1 or 2 fruit and veg portions.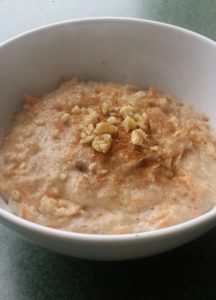 A few of you will have heard me harping on about this already and so here is my wonderful carrot cake porridge recipe as promised.
Ingredients 
Serves 1
50g rolled oats
80g grated carrot
300ml (ish) milk
15g raisins
15g walnuts
1 egg, whisked
nutmeg and cinnamon (as much or little as you like. I like a lot)
Method
I usually prepare all the ingredients (except the egg) into a container the night before, ready to chuck into the pan in the morning.
Add the ingredients into a pan and place on a low heat, stirring often. I'm not really sure how long it takes. I get ready whilst its on the hob and when it goes creamy I know it's done. At that point a whisk up the egg and stir it through.
Serve and eat! Simples.
Now admittedly this does fluff up to be a rather large portion however, if you're anything like me, you won't complain. For others, this may be too much to face first thing in the morning. You'll have to play around with the amounts. Eighty grams of vegetables is what is considered a portion and I find 50g is the right amount of oats to balance that (and typically that's what I would have as a portion anyway). If you do use less carrot, add the remainder into your lunchbox for a snack later so you're not missing out on the benefits of a full portion of veg. I know egg in your porridge sounds weird but trust me, you don't even notice it and it gives you a good protein hit. Try egg in any porridge you make.
Total Calories – 555
Macros: Protein 24g, Carbs 59g & Fat 23g.
Unfortunately this recipe isn't vegan friendly as it stands but you can always use a milk alternative and miss out the egg. This recipe worked so well I haven't tried any other milks but I think coconut could be quite delicious. The nuts add a source of healthy fats but if you are watching calories, leave them out to save yourself 107 kcal.
Hope you enjoy this as much as I do. Click here for more recipe ideas.