Posted on May 02, 2017 by Jenny Cromack
It's May, so hopefully that means Summer, and BBQ season, is on it's way. So, we thought we would share some healthy burger recipes with you.
To be honest, the following recipe can be adapted and used in many ways….you could use the base mixture for shepherd's pie, a chilli, spaghetti Bolognese or meatballs. Just add a tomato sauce to the mix (apart from meatballs) and the herbs and spices you wish to use.
I've used minced beef, but you could use turkey mince. Try to buy the leanest mince you can, and if possible from a butcher or organic as it's likely to be better quality.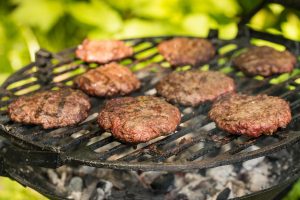 Basic Burger Mix
Makes around 4 burgers.
500g lean, good quality mince
1 small onion chopped
1 egg
1 tsp crushed garlic (optional)
1/2 tsp ground black pepper
You can add 'herbs and spices' or other ingredients at this point, so below for some ideas.
How To…
Mix all of the ingredients in a bowl together
Shape the burgers
Add a small amount of oil to a pan.
Cook thoroughly on each side either on the BBQ or the grill – make sure the burgers are cooked through.
Variations
Harissa burgers – add a tsp of harissa paste and a tsp of paprika to the mixture
Italian burgers – add mixed Italian herbs to the mixture
Fajita burgers – add 1tsp coriander, 1tsp of crushed garlic , 1 tsp ground cumin, 1/2 tsp dried oregano to the mixture.
Spicy beef and bean burgers – 1/2 tin refried beans, 1tbsp chopped jalapenos, small bunch of fresh, chopped coriander.
Take a read of this blog for Jenny's healthy veggie burger recipe.
Serve With….
A nice healthy salad, or…
Sweet potato wedges or jacket potato
Quinoa or bulgar wheat salad.