Posted on August 15, 2017 by Jenny Cromack
I've been personal training Sarah since 2008! Wow! I don't even think my husband get's to see that much of me!
When I first started training Sarah, I was a 'mobile' personal trainer, one of those PT's you see driving around with their car brimming with fitness kit….when I opened my boot it exploded with stability balls, medicine balls…you name it, it was in there!
I remember the first time I met Sarah for her personal training consultation, she was dressed in a big baggy sweater and, understandably, was a little nervous about starting her personal training sessions. We had a good chat about her goals and how we would achieve them, and got booked in for the first session, and she never looked back! Take a look at her before (2008) and after pics (2017), I bet you don't believe it's the same person!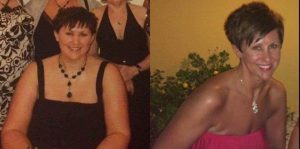 3 Stone In One Year!
In just over a year Sarah had lost 3 stone which is a phenomenal achievement in that amount of time! She lowered her BMI from an unhealthy 34.4 to 26.6 and had lost a staggering 55 inches from her body! Often we are all too eager to focus on weight loss achievements and whilst this is an amazing result, there were other, probably more important changes in Sarah – she was more confident, she could go running and her fitness levels were soaring. I remember when we first started training together, Sarah would be cream crackered just going out for a power walk, and now she was running!
There was no stopping Sarah, and she powered on to lose over 4stone. Here are Sarah's before and after stats from 2008 to 2012, yes the weight loss slowed down a little, but take a look at these results! 77 inches lost…that is the equivalent of a 6 foot 5" person…blimey!
| | | |
| --- | --- | --- |
| | 2008 | 2012 |
| Weight | 17st 10lb | 12st 8.2lb |
| BMI | 34.4 | 24.5 |
| Body Fat | 32.60% | 23.90% |
| Dress Size |  18 |  10-12 |
| Waist | 39" | 28" |
| Hips | 49" | 39" |
| Total Inches Lost | | 77" |
Many of you reading this who have lost weight will know that the biggest challenge is not often losing weight, but keeping it off. Until the start of 2015, Sarah successfully maintained her weight and inch loss, but then, over time, 10-12lbs crept back on. Now, compared to the total amount of weight lost this may not seem like a huge amount but for Sarah it was important that it didn't continue to creep up. In March this year Sarah decided that she needed some refocus with her training. Determined to drop the additional weight she had gained and get back into running Sarah signed up for our Do It In 12 programme. Running was something Sarah hadn't been able to do for around 18 months due to a back injury. And so Sarah's Do It In 12 journey began….
Sarah's Training Week
Sarah loves training, I never have to question whether she will get her sessions in, I know she will. Before Do It In 12 Sarah trained five times per week, so we stuck to this focusing on:
2 x Personal Training sessions (a mixture of HIIT, circuit training and strength training)
1 x strength session at the gym
1 x long run, focusing on building Sarah being able to run 10k again
1 x HIIT or running intervals session
Food Glorious Food
We worked out Sarah's macro-nutrients for her weight loss goals, and followed a carb cycling plan. After week 3, we decided that the progress wasn't as fast as we would both like so we adjusted Sarah's calorie intake and macro's and then began to see greater fat loss results.
We changed Sarah's nutritional plan every two weeks with Sarah finding new recipes to try so that we kept the variety in her meals and food to stop boredom creeping in. Sarah had been honest at the start of Do It In 12 that the odd 'treat' such as a chocolate bar or crisps had started creeping, too frequently, into her diet and this was probably why the extra weight had started to creep on. Having these occasionally will not probably do you any harm but when they become part of your normal routine, eventually you will see the damage on the scales. So, part of our goal on Do It In 12 was to get Sarah back into good habits and for healthy food to be part of 'normal' life.
Keep On Running!
Sarah is pretty chuffed with the weight and inch loss targets, and rightly so, but as her personal trainer, I think I'm more proud of what she has achieved with her running. She has gone from running/walking (3 minutes running) sessions to being able to run 10k without stopping. Something, 18 months ago, Sarah probably thought she would never do again and has entered the Abbey Dash this year too.
Here are Sarah's Do It In 12 stats…..well done Sarah, amazing results! Super proud of everything you have achieved, bring on the Abbey Dash!
If you're inspired by Sarah's achievements and are interested in personal training with motive8 then drop us a line.
| | | |
| --- | --- | --- |
| | Week 1 | Week 12 |
| Weight | 13st 8lb | 12st 13.2lb |
| BMI | 26.4 | 25.12 |
| Body Fat | 32.55% | 30.50% |
| Dress Size |  12 |  10-12 |
| Waist | 29" | 28" |
| Hips | 41" | 40.5" |
| Total Inches Lost | | 10.5" |