Posted on April 11, 2017 by Kate Halsall
As my rhubarb plants start to take over the garden, I need to start planning what I'm going to do with it all! Last time I shared a recipe for a healthy rhubarb crumble, but it's a new season so new recipes are required!! A lot of people know I'm more of a savoury person, and I thought it would be a challenge to see if there are any savoury recipes which use this amazing ingredient! Of course the secondary challenge (and a purely selfish one) is to find savoury rhubarb recipes which are suitable for vegans (a lot of sites recommend rhubarb with mackerel or pork). So here's a few rhubarb recipes to get those taste buds going!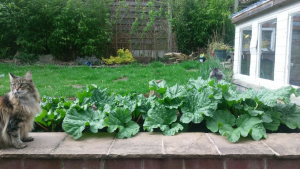 4 stalks of rhubarb (chopped)
1 cup of green lentils
2tbsp grated ginger
1tbsp crushed garlic
4 green cardamom pods
1tbsp black mustard Seeds
2 cloves
1/2 tsp chilli flakes
Salt & black pepper to taste
Chopped fresh coriander for garnish
Heat small amount of oil in pan. Add mustard seeds and roast until they pop. Add ginger and garlic and fry until golden-brown. Add chilli flakes and cook for another few seconds.  Add rhubarb, lentils, cardamom, cloves and pepper to the saucepan and add water to cover by about 1 inch. Cook at a steady simmer until lentils and rhubarb are quite soft, 20 to 30 minutes. Remove cloves and, if you like, cardamom pods. Add salt and pepper to taste. Serve with fresh Coriander.
Juice of 1 lemon
Salt & pepper
150g rhubarb
150g radishes
1 fennel bulb
Mix the lemon juice with some salt and pepper. Slice the rhubarb, radishes and fennel as thinly as you possibly can. Immediately toss them in the seasoned lemon juice.
1tbsp vegetable oil
Handful of curry leaves
1/2 tsp mustard seeds
400g rhubarb (finely sliced)
4 green chillis (chopped)
1tsp ground cumin
1tsp ground coriander
agave syrup to taste (max 2tbsp)
Juice of 1 lime
3tbsp chopped mint
Heat the oil in a frying pan and add the curry leaves and mustard seeds. When they start to pop, add the rhubarb, chillies, cumin, coriander and agave, stirring well to combine. Cook for 2-3 minutes, then add the lime juice and cook for a further 2-3 minutes, or until the rhubarb is softened. Stir in the mint leaves, then remove the pan from the heat and set aside.
SLURP! Enjoy these tasty, and healthy, rhubarb recipes!