Posted on May 30, 2017 by Jenny Cromack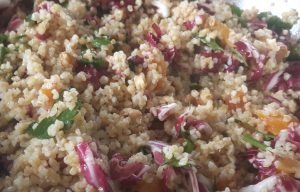 This bulgar wheat, apricot, walnut and radicchio salad is my current favourite! And here's why….
1. It's great to bulk make so I can use it for lunches or evening meals when I need something quick.
2. It's full of protein, good fats and slow release energy….just what I need to keep my energy levels up during the day and help either fuel an evening bike ride home, or assist with muscle repair after a morning workout.
3. It's really tasty!! And that's the most important thing! I never usually like sweet things such as apricots in savoury food, but the apricots in this recipe work really well!
4. It's super easy to make.
Ingredients – serves 4
15g flat leaf parsley
200g bulgar wheat
90g apricots
50g walnuts
25g sunflower seeds (or any you wish)
1/2 head radicchio lettuce
3 tsp extra virgin olive oil
2 tsp honey
juice of one lemon
How To
Cook the bulgar wheat according to the instructions on the packet
Leave to cool
Chop the radicchio, finely chop the parsely, smash up the walnuts (my favourite part! I put the walnuts in a bag and then smash them up with a rolling pin!), dice the apricots.
Make the dressing by whisking the honey, oil and lemon together.
Once the bulgar wheat is cool add all of the other ingredients, mix thoroughly.
For added protein power serve with boiled free range eggs or some chicken or fish.