Posted on August 03, 2017 by Kate Halsall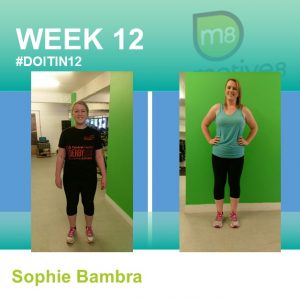 This picture is Sophie on week 1 and week 12 of our Do It In 12 programme – Do It In 12 is our tailored personal training programme, which guarantees results in just 12 weeks.
You can see that the changes have been phenomenal. By the end of our 12 weeks, Sophie has lost 1st 2.4lb, 41.5cm and 5% body fat – smashing all the goals we had initially set. Not only that but Sophie keeps smashing her 5k PB! All this from a lady who never used weights before. But don't just take it from me – hear her Do It In 12 story from Sophie herself:
Why Choose Do It In 12?
I'm getting married in October this year and Do It In 12 was the perfect thing to help me to get into shape and look my best! I've made a few vague attempts to lose weight in the last couple of years, but never really stuck at anything. I knew that the structure of Do It In 12 and the constant support off Kate, my PT, would make all the difference – and it did!
What Was Your Biggest Challenge?
I've often struggled with dizziness and feeling faint during exercise – and in the past this has made me quit altogether. I did have some dizzy spells in my first few sessions, but didn't give up this time – and I'm very happy to say it hasn't happened since!
Another big challenge was getting over my fear of going to the gym by myself. It sounds silly looking back, but I was so intimidated and nervous that I just didn't go at all. I'm so much more confident now and actually enjoy going!
What's Your Biggest Achievement During The Programme?
Losing 1stone 2lbs and 5% body fat are of course the main things, but there's so many more little things that I'm really proud of as well. For example, the fact that I can now hold a plank for longer than 30seconds without collapsing! Also that I can train with weights, something that I was clueless about before. My running has hugely improved as well – my 5k PB has dropped from 35:09 to 31:21!
So What's Next?
I'm definitely going to keep training. I've come so far and I'm excited to see how much further I can go. I'm also determined to run 5k in less than 30 mins before the end of the year!