Posted on March 14, 2018 by Jenny Cromack
As most of you will know I am trying to go through Lent without having a 'rest day' – so some sort of training session every day. It's going well, I have done about three weeks so far without missing a training session and by my maths I have about two and a bit weeks left. Bring it on!
I know most of you will think I am some kind of superhero, but believe it or not I am human!  And, like most humans, I get tired too. On two occasions I have been lacking motivation and wanted to skip a training session. On these occasions I created my own little strength/prehab sessions. Those of you that know me, will know how anal I am about my sessions, I follow a 6-week training block and do these sessions religiously. So, doing a session 'off the cusp' was very different for me.
What I wanted out of this session, was first and foremost, a session where I felt like it counted as a training session. Secondly, a session that acted like a prehab or recovery gym session for the coming weeks.
Here is what I ended up doing and I really enjoyed it. This prehab / recovery gym session felt like just enough to keep me ticking over, but not tire me out too much…
Perform the exercises as tri-sets. Reps-wise I wasn't too strict, I gave my self the challenge of 12 every time but, a minimum of 8. If I felt technique was getting challenged I would stop and settle for 8 or 10 good reps (remember technique is always king!) I did 3 sets of each tri-set – but feel free to do 4…
A1) DB Step-up
A2) Prone BB Row
A3) Rope Pallof Press
B1) Cable Single Leg RDL
B2) DB Push Press
B3) Single Arm DB Walks
C1) Landmine Rotations
C2) Tricep Dips
C3) Hanging Leg Raise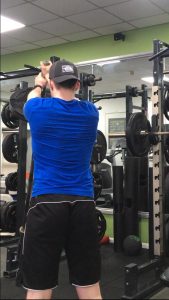 Go well and I hope you enjoy this recovery gym session as much as I did!