Posted on December 12, 2018 by Jenny Cromack
Think Santa is just some out of shape old white guy with a beer belly? Think again! In just one night this athletic powerhouse circumnavigates the globe (a whopping 40'000 kilometres) and personally delivers at least one toy to all 2 billion children in the world.  Assuming each toy weights at least 1kg, that 2 billion kilograms of load to shift!
So if you're ready to 'sleigh' your training, why not use this Santa's training plan and become the jolly bearded athlete you were born to be?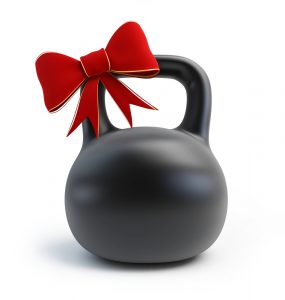 Monday – Full body Strength
Carrying all those presents isn't easy, so you'll need a solid base of strength to pull it off…
Squats: 5×5
Bench Press: 5×5
Deadlifts: 3×5
Tuesday – Cardio Endurance
If you want to run those 40k you need to start building up some mileage in your legs!
Allow yourself 1 hour to cover as much distance as possible.  Remember to pace yourself, control your breathing and get into a nice rhythm.
Wednesday – Full Body Hypertrophy
Think Santa eats all those mince pies and drinks all that milk for fun?  Not at all, he's going after those sweet, sweet gainz, and if you want to be as jacked as Santa, you'll want to follow this workout…
Squat/Lunge Superset – 3 sets of 10 reps + 10 reps. 90 seconds rest.
Bench Press/Press Ups Superset – 3 sets of 10 reps + 10 reps. 90 seconds rest.
Pull Ups/DB Rows Superset – 3 sets of Max reps + 10 reps each side. 90 seconds rest.
Follow up with a protein shake – Santa's favourites are cookies and cream, cinnamon or roast turkey flavour.
Thursday – Rest and Recovery
To look after his 'Elf and Fitness,' Santa has a full team of physiotherapists and massage therapists to help him recover.  If you can't quite make it to the north pole though, maybe try some foam rolling and gentle stretching at home.
Friday – Interval-Based Agility Training
Climbing chimneys is no easy business, you'll need to be fit, agile and speedy.  Obstacle course gyms are ideal for this, but lots bigger gyms have climbing frames, ropes and set-ups where you can practice your skills.
1 minute intense practice to 2 minutes rest. 6-8 rounds is ideal.
Saturday – Strongman Training
Carrying all those odd shaped and sized presents requires practice.  Strongman training is perfect for it, so why not try this circuit… (3 or 4 times through should be work great))
Atlas Stones – 5 lifts
Keg Carries – 40m
Tyre Flips – 5 flips
Yolk Walk – 20m
Sunday – Rest
A nice big sunday roast is perfect for recovery.
And that's it, Santa's full athletic training routine; strength, cardio, hypertrophy, agility, strongman, he's got it all!  Give it a go for a month and let us know how you do.