Posted on May 09, 2019 by Kate Halsall
You may remember a similar blog when I went to China. Going to Japan, I was determined I was going to have proper Japanese food. Bowls of Ramen noodles, endless amounts of gyozas, tofu coming out of my ears, katsu curry and sushi. Some people were skeptical. So how did a vegan cope in Japan? Read on!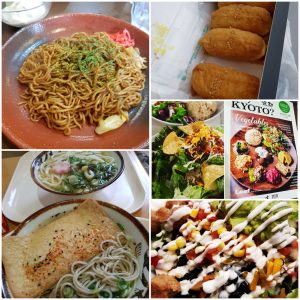 Tokyo
I found Tokyo the hardest to get vegan food in. It was here where the realisation kicked in that it wasn't going to be as easy as I thought. It was disheartening at first. I couldn't just go and get a bowl of ramen (chicken bone stock or bonito flakes everywhere), a lot of places didn't have English menu, anything that said it was rice and vegetables also actually contained meat. The hotel breakfast had very little I could eat – although strangely I'm now missing having salad for breakfast! But, if you follow these tips, you can get around it:
Google. We found the amazing Ain Soph chain just around the corner from us (and then found them in Kyoto too) – amazing vegan food. There are so many websites where you can search for places to eat – it's just a case of whether you want to spend your holiday looking for them!
Deal with it. Something my husband said to me to get me to "suck it up" and stop sulking. Get brave. Just go into places. Ignore the menus outside. Use the food halls. I had some amazing food doing this.
Forget about "meals". I would just have lots of little dishes. Pickled aubergine, stir fried mushrooms, silken tofu, steamed rice, bean curry, side salad – a meal isn't just one dish!
Don't forget it's multi-cultural. Just because you're in Japan, it doesn't mean you just have to eat Japanese food.
Nikko
It's local specialty is "Yuba" – the skin that forms when making tofu. It was delicious, and I got my first load of noodles here too!
Takayama
We went to an Indian/Nepalese restaurant and it was great! The breakfast buffet in our hotel was exactly what I had expected from Japan and as such had exactly what I needed: steamed rice, tofu, pickled vegetables, salad.
Kanazawa
A little more tricky, a lot of places where closed early. As such I'm not embarrassed to say that we ate in a tiny Chinese restaurant and it was AMAZING!
Kyoto
Vegan's paradise! So many places had English Menus and vegan options and a few more vegetables! Vegan and vegetarianism is so popular there we couldn't get into some places. This was a place of ramen noodles galore, a lot more tofu – and not just of the silken variety, edamame, more tofu, sushi, more noodles……..yuuuuummmmmmm!
In summary – it was hard at first. I hate spending my holiday searching for places I can eat in – plus my husband is NOT vegan, so it had to work for him too. There was an overall lack of vegetables if I'm honest, but I had some amazing tofu dishes (which of course I've been trying to recreate since I've got back).
I never did get those gyozas though…