Posted on December 29, 2017 by Kate Halsall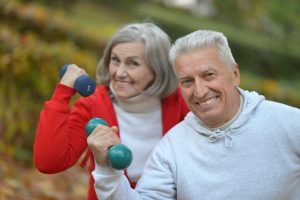 Do any of your new years resolutions include fitness related goals? Are you looking for inspiration for something new and exciting to start in 2018? Then look no further! I have done the hard work for you (other than actually doing the exercise that is). I have searched the web to come up with a comprehensive list of the fitness trends for 2018. Funnily enough – the list may not actually surprise you!
Let's start with an official list of the fitness trends for 2018. The American College of Sports Medicine have released their annual survey for the top ten fitness trends. This survey is from health and fitness professionals from all over the world – and specifically focus on trends and not fads.
For 2018 their top 5 fitness trends are:
High Intensity Interval Training  (aka HIIT)
Group Training – both classes and small group training
Wearable technology (this was 1st last year!)
Body Weight Training
Strength Training
If your favourites don't appear in this top 5, don't worry, within their top 10 we also see Yoga (yay!), Personal Training (yay!) and Functional Fitness.
What IS interesting is that this year this is definitely a push towards fitness programmes for older adults – with some sites also listing "exercise for weight loss" and "exercise for health" in their top 5. Even the Amazon "Alexa" responds to the command "alexa, give me a workout". The emphasis on accessible exercise is making a push for the top spot.
On unofficial lists we see Trampolining, virtual spin classes and boxing workouts.
But if you're looking for something totally "out there", then according to the Daily Mail you should look into Mermaiding (breathing techniques and underwater modelling), or according to the Telegraph, have a go at Prama (think arcade dance game). Keep in mind however, that these are likely to be "fads" rather than trends!