Posted on September 12, 2018 by Kate Halsall
We all have different reasons for starting our fitness and weight-loss journeys. When Maddie signed up for personal training she had specific goals for us to help her achieve.  A holiday was booked for August and she wanted to not only look good but feel good for it. Do It In 12 was perfectly timed – the 12 weeks would be up just before the holiday started. It wasn't easy, Maddie is a social butterfly, so we had to compromise and find a lifestyle that was sustainable but also met Maddie's goals. We think you'll agree from the pictures that we did just that!
Losing 1 and a half stone, 5% body fat and 54cm from her body. AMAZING!!
But don't just take our words for it, we asked Maddie what she thought: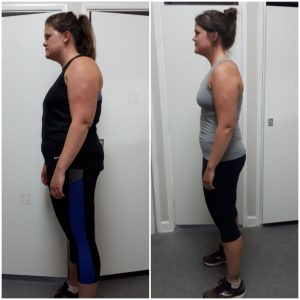 Why Do It In 12?
To find a better relationship with food & exercise – so instead of feeling like I'm constantly on a diet, I wanted to feel like it's just a lifestyle and that it's sustainable. I also wanted to shed a few pounds and be able to wear more of my wardrobe!
What Was The Biggest Challenge?
Cutting down on the drinking and socialising! Although, to be honest, I managed to find a good balance. I was also able to go out without going over on calories, or go out and not drink! The other hard part was that at the beginning it felt like there was such a long road ahead of me which was going to be hard to stick to. But time just flew!
What Was Your Biggest Accomplishment?
It has to be the results! I never maintained or gained, it was always a loss of weight as well as inches and body fat. I've always found it hard to stick to something for longer than a couple of weeks in the past; but I finally feel that I have a good relationship with food – I'm not scared by any of it – it's all about balance! the other thing was going from only being able to run 3k to finishing the York 10k within a matter of weeks. It's amazing what good nutrition, more strength and motivation can do for fitness!
What's Next?
Do It In 12 was just the start. I'm going to keep up with 1 personal training session a week to stay motivated, and I'm going to try more of the classes too. I will keep up with the running – I've got the Abbey Dash in November. But I also feel confident to try other workouts in the gym – exercise is just part of the routine now! I currently log all my food in My Fitness Pal to keep on top of it, but I'd like to get to the point where I can just see from portion size/food types what is healthy and I should be eating. I feel like I'm nearly there, so I've just got to keep pushing. Also, I should probably keep the drinking to a minimum!!
If you've been inspired by Maddie and would like to Do It In 12, contact the team at [email protected] or call 0113 243 0161.