Posted on December 20, 2019 by Kate Halsall
We often don't sing enough about the real heroes in the gym. These are the people who give 100% all the time – both inside and outside of the gym. Who really work for what they want, are consistent and are not afraid to give anything a go. One such hero is Tom Linforth which is why he was nominated as December's member of the month.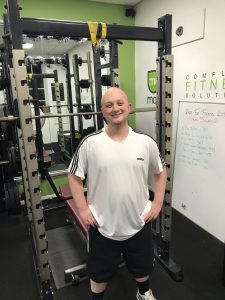 How Long Have You Trained At motive8?
Started on August 19th so about 4 months now, still going strong!
What Were Your Goals When You Joined And Have They Changed?
My main goal was to lose weight which I knew would improve my self-esteem and also my snoring! I knew I had to couple the exercise with a fairly dramatic diet change which I believe I've now got in order. Weight-loss is still my main aim but I have since really enjoyed the strength based exercises with Josh and will look to keep improving there.
Why Do You Enjoy Working Out At motive8?
I enjoy the environment that motive8 provides; in that it is quite small, quiet and friendly. It's more intimate and approachable than a typical larger gym.
What Keeps You motivated?
Goes without saying that without a PT, I would have given up – or actually never even started! I've had the chance to work with a couple different trainers at Motive8 who were all great and provided different insights. For the last couple months now I've been working well with Josh who knows my capabilities well and always gets the best out of me. Seeing my physical health progress has also improved my overall mood/mental health.
Tom has already lost 10kg through his training here with motive8 and has built up to a 65kg Bench, 110kg Deadlift and a 95kg Squat – over the last 5 weeks!! Keep up the GREAT work Tom! If you would like too speak to one of our trainers about your fitness journey, email us at [email protected] or call 0113 243 0161 .