Posted on October 21, 2019 by Kate Halsall
Meet October's Member of the Month – Emma Joy (was Watson). She joined in with the classes at motive8 in July. Worried about a pre-existing knee injury, she popped in for a chat and the rest, as they say, is history! Now a regular feature in our lunch time classes, Emma works hard – and we mean HARD! When we told Emma we had nominated her, there was a "giddy shuffle" (her words) and then this great insight into her training: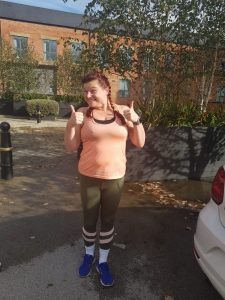 How long have you trained at motive8?
7 Months
What were your goals when you joined and have they changed?
After a pretty tough 2018 I hadn't noticed the weight I had gained until I had a wedding dress fitting and I couldn't fasten the dress. My main goal at the start was to fit in my wedding dress for the big day!
Now the big day has been and gone (and yes, I managed to fasten the dress!) my new goal is to continue to get healthier and push myself to get that flat tummy before I hit 40! …Also to be able to do a proper sit up without anchoring my feet.
Why do you enjoy working out at motive8?
The trainers and members are great, supportive and non-judgmental towards ability. Sometimes gyms can feel intimidating, but not at motive8. Staff push you do try your personal best and not compare yourself to other abilities within class.
What keeps you motivated?
A commitment to my healthier lifestyle.
The inclination to push myself – each week I notice improvement. My strength and stamina have increased and I can now jog 5km without a break…..7 months ago I couldn't go 50m without catching my breath!
Seeing a change in my body shape and being able to fit into clothes I've not been able to wear for longer than I care to admit.
If you want to come and join Emma to improve your fitness and smash your goals, have a look at our class timetable.