November's Member of the Month – Bushra
Posted on November 28, 2019 by Kate Halsall
If you are a regular here in the Marshall Street gym, you'll have met Bushra. She is always either pushing herself hard on the treadmill, or giving it her all in her personal training session with Emily. She always chats to other members in gym, always smiles, and her hard work really shows in the results she has achieved. Her journey starts with a tragedy, but her determination to overcome the odds is one of the many reasons why November's member of the month is Bushra. Read her story here.
How Long Have You Trained At Motive8?
It's been almost 10 months since I joined the gym and started personal training at motive8.
What Where Your Goals When You Joined And Have They Changed?
Before joining motive8 I had been involved in a massive accident which resulted in not only a few disabilities but also in spending the next 5 years in bed. I became over weight and lost a lot of hope and confidence in myself – and life to be honest. When I joined I was almost 78kg in weight and my goal was to get myself to 55kg and work on body shape. At the moment I am 60kg and I am almost there!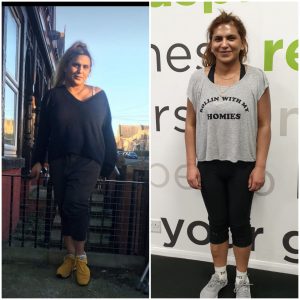 Why Do You Enjoy Working Out At Motive8?
As soon as you enter, you feel motivated by such a professional and proper environment to workout in. I am really grateful to my trainer Emily and remaining staff at motive8.
What Keeps You Motivated?
Motive8 has played a massive role in getting my confidence and happiness back. I had stopped loving myself but motive8 has given me confidence. I have the best personal trainer in Emily – she has literally got me to where I wanted to be. I really enjoy working out with her. Having the best workout with the help of the best personal trainers keeps me motivated!
We love the energy that Bushra brings to the gym, and her story is truly an inspirational one. Thank you Bushra!