Posted on January 28, 2022 by Courtney Williams
Ladies and gentlemen, we are proud to announce our new gym instructor – Courtney aka Mr Core! He's a passionate fitness instructor who is also qualified in Sports Massage Therapy. Courtney is looking forward to being a motive8 family member and is fully dedicated in improving client's health and fitness.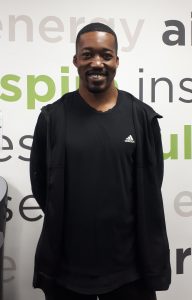 What was the attraction of becoming a gym instructor?
What attracted me to becoming a gym instructor, was the social and motivational requirements. Plus the fact I LOVE being fit. I've always been into sport and have always helped those around me improve physically, so motivating others to improve their fitness comes naturally and gives me such a sense of satisfaction.
Do you train?
Yeah! I train 5 days a week, for a minimum of an hour and a half. My training specifies to tone and improved muscular endurance. I don't train to be strong, I train to be strong for long.
What do you like/dislike?
I like playing the piano. I like watching Football, Snooker, and Boxing. I like sweating and making other people sweat through exercise. I dislike the slamming of weights on resistance machines. It occasionally makes me jump in shock and can quite possibly make me develop a trapped nerve!
Your top training tip?
Do not be afraid to come out of your comfort zone. The will be many exercises you may find a little daunting or even difficult. Persevere and be brave. It was a brave decision to enter the gym in the first place, don't stop there!
We know you're itching to tell us a bit about Football…
I currently play for a Sunday league team – Oakley Wolves FC. Me and a few of my 'back in the day clubbing' mates formed in 2019. We entered the league in 2020-2021 season and we are on course for promotion. We have recruited some fit young lads and hope to reach the conference league one day and hopefully us 'originals' can start getting paid. It's a far dream but it's a dream.
We're happy to have Courtney as a team for Motive8. He swears to honour us just as much as his Footy team. Gooooooonahhhhh……….