Take a read about some of the success stories from our Do It In 12 Programme.
If you're interested in Doing It In 12 and hitting your goals then drop us a line or call us on 0113 2430161 and we'll show you how you can achieve your goals in just 12 weeks.
Steve Copsey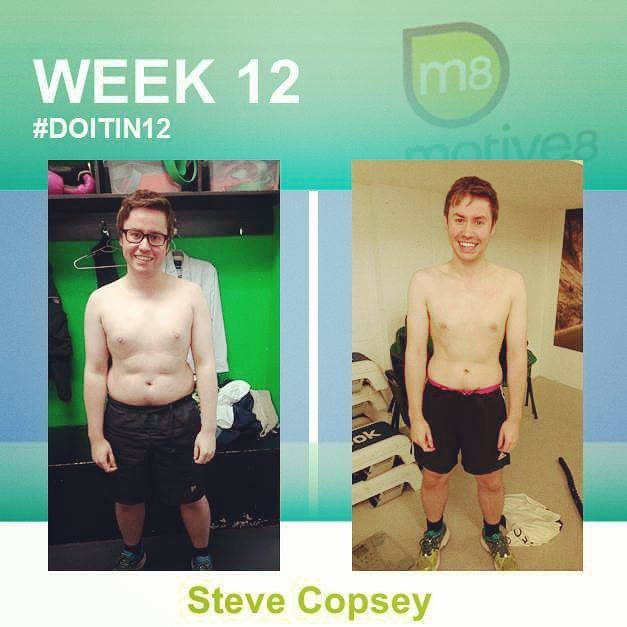 Before
Weight
77.2kg
64.8kg
BMI
27.1
22.9
Waist
83.5 cm
69cm
Chest Size
92cm
83cm
% Body Fat
25.13%
17.32%
Cms Lost
65cm

Before Steve started 'doing it in 12' he had never lifted weights before, his 1 rep max is now 50k for bench press and 90kg for deadlift – not to shabby for someone who hadn't lifted a barbell before! Not only has Steve seen these amazing results but he has also learned how exercise and healthy eating can be part of his life forever. After all, a healthy body is for life not just for 12 weeks…..
Stephen Tweddle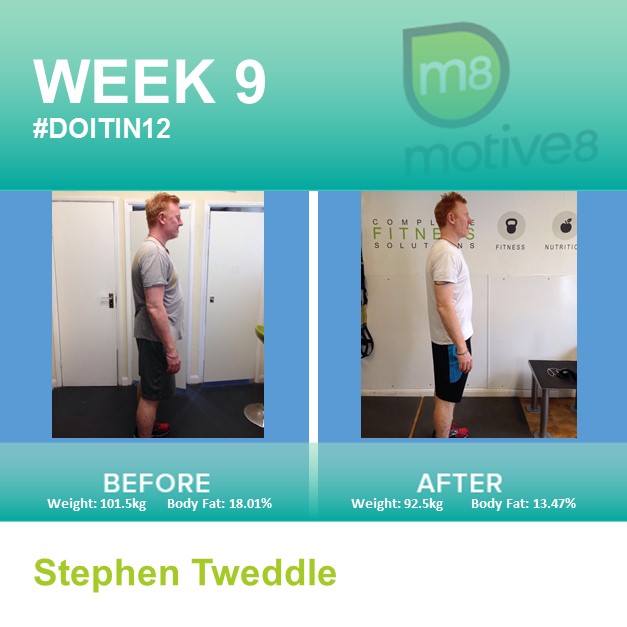 Before

Weight
101.5kg
92.5kg
BMI
30.6
27.9
Waist
98cm
91cm
Chest
106cm
101cm
% Body Fat
18%
13.47%
Inches Lost
49.5cm

Stephen is only 9 weeks into his journey but we just had to shout about what he has achieved already, over 5% body fat, nearly 10kg lost (that's 20 x 500g bags of sugar…wow!) and almost 50cm (20 inches in old money) is phenomenal! In fact we've had to revise his targets as he has already nearly achieved what he originally set out to achieve! Well done Steve!
Ruby Briggs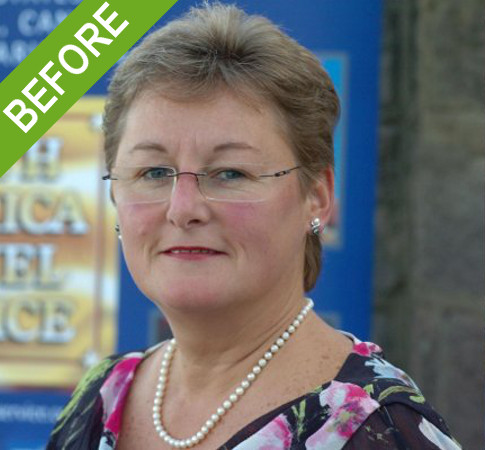 Before
After Do It In 12
Weight
14st 4lb
12st 12.6lb
BMI
33.39
30.12
Waist
42 inches
37 inches
Dress Size
20
16
% Body Fat
38
33
Inches Lost
20.25

After doing Do It In 12 and closely following her nutritional and training plan, Ruby achieved some fantastic results! 'I can't quite believe that I've gone from someone who hated shopping because I couldn't find anything to fit, to someone who enjoys shopping for new clothes'.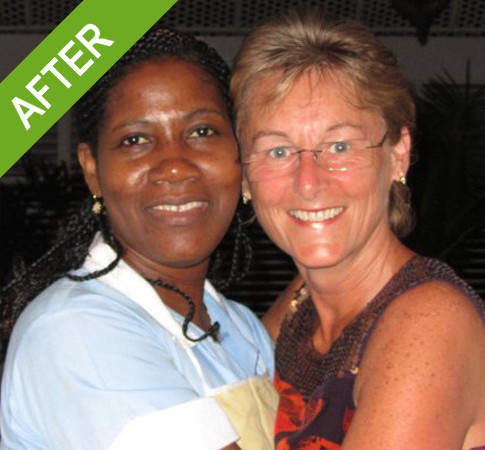 Day 1
Current
Total Loss
Weight
14st 4lb
10st 1lb
4st 3lb
BMI
33.39
22.63
-10.76
Waist
42 inches
27.25 inches
-14.75 inches
Dress Size
20
12
8 dress sizes!
% Body Fat
36.48
24.5
-13%
Inches Lost
74 inches

Ruby has continued to train with motive8 North and has continued to achieve more amazing results. '

Without Jenny's help it just wouldn't have been possible for me to achieve the weight loss and fitness targets set for my big 'FIVE-0′ birthday. 

Read Ruby's full testimonial

here

.
Greg Judges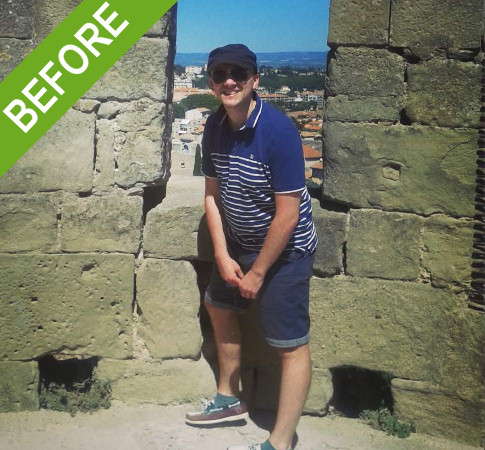 Before
After Do It In 12
Weight
12st 12lb
12st 0.6lb
BMI
27.4
25.7
Waist
92cm
82cm
Chest
99cm
93cm
% Body Fat
20.13
16.64
Centimetres Lost
27.5

Not only did Greg achieve amazing results with Do It In 12 he also took part in the Oxfam Trail Trekker challenge…over 100km in 30 hours! Well done Greg!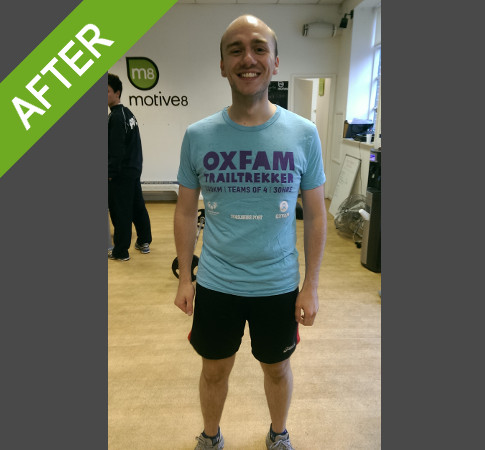 Day 1
Currently
Total Loss
Weight
12st 12lb
10st 8.2lb
2st 3.8lb
BMI
27.4
22.7
-4.7
Waist
92cm
73cm
-19cm
Chest
99cm
85cm
-14cm
% Body Fat
20.13
11.65
-8.48%
Centimetres Lost
85cm

Greg has continued to train with Kate, and has a lost over 8% body fat and 85 centimetres. With his new found fitness Greg is also completing his first Ultra Marathon this year! Go Greg!
Lynette Clapham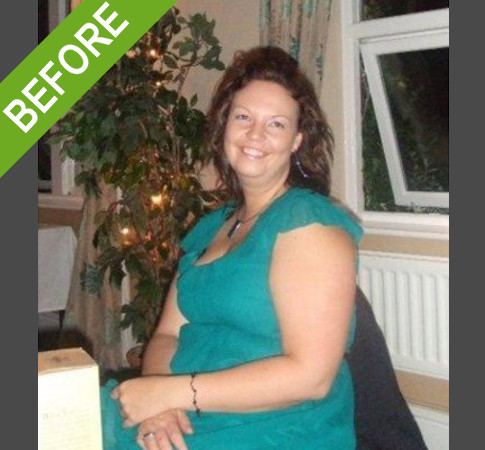 Before
After Do It In 12
Weight
15st 8.6lb
13st 12.2lb
BMI
33.57
29.81
Waist
33.5 inches
30 inches
Dress Size
16-18
14
% Body Fat
38.4
34.64
Inches Lost
26.5

When Lynette first started Do It In 12, whilst she wanted to lose weight her main target was to focus on losing body fat and inches and improving her overall health. This was massively achieved with almost 4% body fat lost and over 26 inches!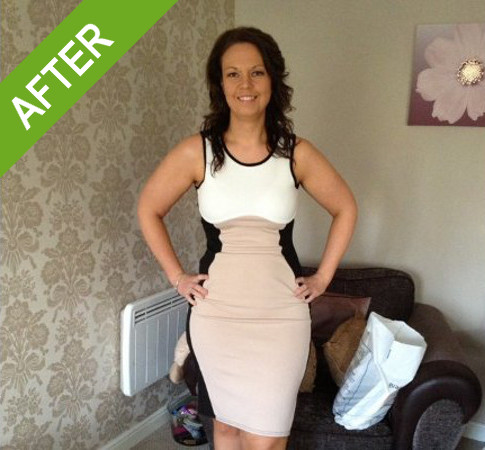 Day 1
Currently
Total Loss
Weight
15st 8.6lb
12st 7lb
3st 1.6lb
BMI
33.57
26.87
-6.7
Waist
33.5 inches
26.25 inches
-7.25 inches
Dress Size
16-18
12-14
3 dress sizes!
% Body Fat
38.4
29.9
-8.5%
Inches Lost
54.75 inches

After Do It In 12 Lynette has continued to have personal training sessions with Jenny but only on a weekly basis. She has continued to see fantastic results, but more importantly has kept the weight, body fat and inches off for the last 2 years!
Karen Boyle
Before
After Do It In 12
Weight
10st 10lb
9st 9lb
BMI
24.45
21.87
Waist
32"
29"
Inches Lost
20.5
% Body Fat
22.9%
17.49%

When Karen first started the Do It In 12 Programme, her focus wasn't on the aesthetic goals but more focused on her energy levels and how long she could run for

Karen really took to fine tuning her already good nutrition, but she really impressed Ieuan and herself with her motivation and capabilities with her training. She came into it wanting to get into running but came out of it with a new found love for resistance training and shaping the body. Her words on finishing the program were "I got so much out of it that I didn't even realise I wanted".

Considering there were no primary weight loss or body related goals Karen achieved way more than she initially wanted. Well Done, awesome work Karen!
Erene H
Before
After Do It In 12
Weight
57kg
56kg
BMI
21
20
Waist
25"
23.5"
Inches Lost
9 3/4
% Body Fat
26.1%
22.4%

When Erene first contacted the motive8 North personal training team I remember being shocked – she already looked in amazing shape but Erene's motivation for joining the Do It In 12 Programme was to increase her energy and get her exercise mojo back.

Erene explained that she used to love exercise but had lost her passion for it and felt that doing the Do It In 12 programme would help her to regain her motivation and become healthier and more energetic again. The Do It In 12 programme has certainly got her back on track…..

– Erene has recently smashed her personal best at the 5k park run.

– She is lifting heavier and is proof that girls who lift do not turn into the incredible hulk – she looks great.

– Her body fat is lower, revealing those abs

– And she has more energy and is in a great routine of exercising 3-4 times per week.

Well done Erene!
Rachel Greenwood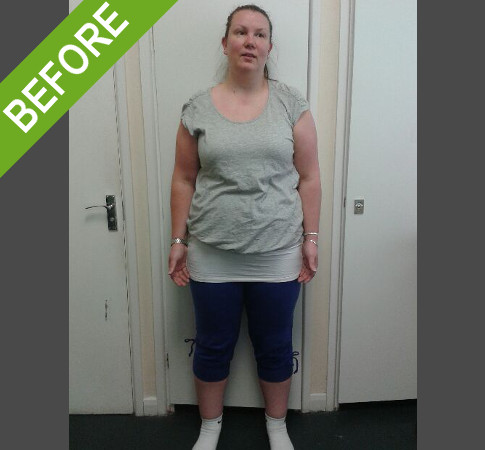 Before
After Do It In 12
Weight
19st 2lb
16st 8.8lb
BMI
39.7
34.4
Waist
119.5cm
110cm
Dress Size
22
16
% Body Fat
47.9
40.8
Centimetres Lost
48

When Rachel first started the Do It In 12 Programme she couldn't bend down to fasten her show laces. After 12 weeks Rachel is a different person who is now planning to run a 10k later this year!